Related News
Related News

Bethel neighbors boost emergency preparedness during Emergency Water Station event

Staff gave out about 300 emergency water containers to enthusiastic community members eager to learn more about the water station.

Find Out More

How does EWEB recover the costs of serving customers

Here's an overview of the three primary ways EWEB recovers the costs of serving customers and generates the funds needed to keep the power on and the water flowing.

Find Out More

Women in STEM: Meet our servant leader and maker of tough decisions

Karen Kelley, Chief Operations Officer at EWEB, describes herself as a "servant leader," offering support and mentoring to four division managers at EWEB.

Find Out More

Women in STEM: Meet the water quality specialist who ensures the safety of Eugene's drinking water

Brenda Casarez began working at EWEB in 2009, collecting samples from all over the water system testing for different contaminants.

Find Out More

EWEB will close College Hill Reservoir site for Fourth of July

EWEB will continue the annual closure of its College Hill Reservoir over the Fourth of July holiday. For the past several years, EWEB has restricted access to the reservoir surface around the Fourth of July to ensure people do not set off fireworks which can damage the roof and potentially impact drinking water quality.

Find Out More
Water main break restricts Broadway/Hilyard intersection
August 16, 2019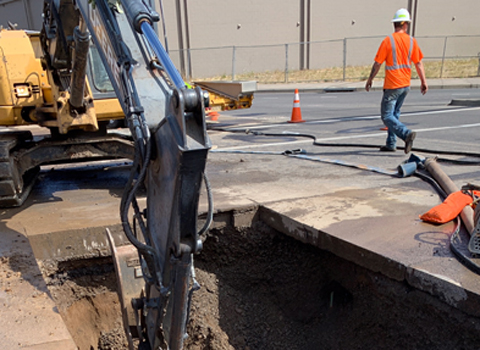 A broken water main at the intersection of East Broadway and Hilyard Street will severely restrict traffic movements at the intersection, so drivers should avoid the area and seek alternate routes.
EWEB crews are in the process of repairing the break, but the work continue through Friday evening.
Northbound Hilyard approaching the intersection is reduced to one lane north of East 11th Avenue. Vehicles will be allowed to proceed northbound across the intersection, or eastbound on Broadway only. No westbound traffic movements from northbound Hilyard are permitted.
Southbound Hilyard is closed at East Eighth Avenue, and only business access is permitted.
Eastbound Broadway is restricted, with only eastbound traffic movements permitted.
Westbound Broadway is also restricted at the intersection, with vehicles only permitted to turn onto northbound Hilyard.
The break to the 20-inch cast iron water main occurred at approximately 2:30 a.m. Crews hope to complete work by 8 p.m. Friday.