High-Speed Fiber Internet Lights Up in Downtown Eugene
March 03, 2017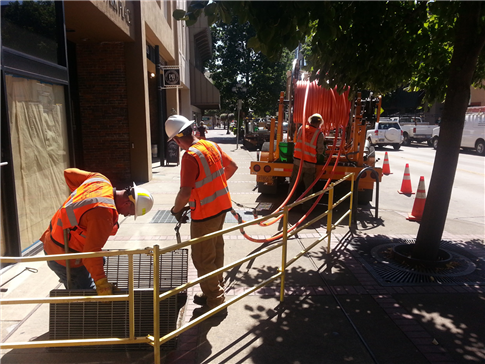 As a citizen-owned utility, EWEB has always invested in the community. We're proud to partner with the city of Eugene and the Lane Council of Governments, with support from the Technology Association of Oregon, on the construction of a publicly-owned high-speed fiber network that will connect about 120 downtown Eugene buildings to world-class internet.

On March 21, from 5 to 7:30 p.m., the public is invited to attend the Fiber Project Launch Celebration in downtown Eugene.
This economic development project builds on the success of a two-year pilot, which brought fiber to seven downtown buildings. EWEB crews installed high speed fiber from the WIX (Willamette Internet Exchange) to five downtown buildings via our underground electric conduits. Using existing infrastructure saved millions of dollars in construction costs by not having to tear up the streets for a new utility trench. The pilot demonstrated the benefits of the publicly owned fiber network, partnered with private providers. Downtown businesses are now able to choose from several internet service providers (ISPs), which are offering faster speeds at significantly lower prices than before the pilot in downtown Eugene.
"More and more businesses and jobs depend on high-speed internet, just as much as they depend on other basic infrastructure," says Mel Damewood, EWEB's chief engineering and operations officer. "This innovative 'open-access' model of public ownership partnered with private ISPs offers service in a cost-competitive environment, and that helps to support our growing tech sector and a vibrant downtown."
Funding for the project comes primarily from Eugene's Downtown Urban Renewal District. In 2016, the Eugene City Council approved a plan amendment that made fiber installation within the Downtown District eligible for up to $3 million of urban renewal funding. The fiber network will be constructed by EWEB, the city and LCOG, and will be owned by the public. Private ISPs will lease the fiber strands from EWEB and then provide services to individual businesses within the service area. Any qualified ISP can lease the fiber, as it is an open-access network.
The Fiber Lighting Ceremony will be led by representatives from the partner agencies and elected officials. ISPs that provide service on the 'open-access' fiber network will also be available to answer questions from the media about their service offerings. Demonstrations of 10 Gigabit internet speeds will be available on request for media. The event will take place at the Miner Building, 132 E. Broadway, which was Eugene's first high rise building. It was recently connected to public fiber and is now home to several tech companies.
Community members are invited to attend the Fiber Project Launch Celebration, also taking place at 132 E. Broadway. This event will include demonstrations of 10 Gigabit internet access, from internet service provider XS Media, utilizing the 'open-access' fiber network. The event will also be an opportunity for the community to celebrate this milestone, downtown building owners to learn more about getting connected, and tech enthusiasts to get hands-on with 10 Gigabit internet access. Tickets can be purchased for $20 in advance at http://techoregon.org. Ticket proceeds will benefit the Springfield Education Foundation and Looking Glass Community Services.