When it comes to downed power lines, your safety is our first concern.

Never touch a downed power line or anything it may be touching. Especially, watch for puddles and fences. Treat every downed line as though it were energized or capable of causing you harmful electric shock. Even a line that is not sparking or sizzling may be energized.

Review an illustration about downed power lines.
---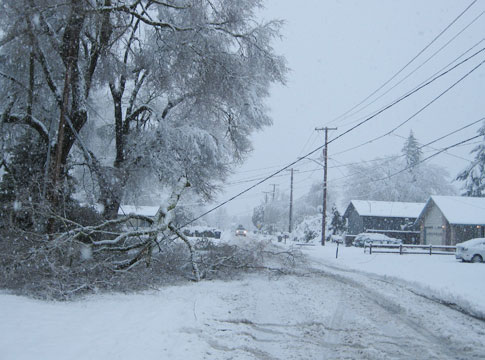 If you see a downed power line
There's no way to know if a downed line is energized, so play it safe—assume it is live and stay away.
Call our toll-free outage reporting line at 1-844-484-2300. You must complete all prompts to record your outage.

If the downed line is across a street or sidewalk, call 911.
Stay at least 50 feet (about the length of two busses) away from the line.
If you see someone in contact with a power line, don't touch him or her, or you may become a victim too. Call 911 immediately.
If a power line falls across your car, try to drive clear. If that fails, stay in the car. If you must get out because of imminent danger such as fire, be sure to leap clear so you don't touch the vehicle and the ground at the same time.
If you see repair crews working on downed power lines, please drive carefully. Expect delays and use caution when driving near any repair crews working to restore your power.
---
Warning ribbons on downed lines
When we receive a report of a downed line, EWEB will send an Assessor or Wire Watcher to the site to evaluate the damage, so that the appropriate repair crew can be assigned. Once assessed, a downed line may be marked with a color-coded warning ribbon.
Yellow/green striped ribbon: Communication wire, capable of carrying hazardous voltage. Stay away and contact your communication company.
Yellow ribbon: High voltage primary wire, capable of carrying up to 12,000 volts. Stay at least 50 feet away and await EWEB crew.
Red ribbon: Secondary wire, capable of carrying up to 240 volts. Stay at least 50 feet away and await EWEB crew.
If you see a downed line that is not marked with a color-coded ribbon, assume it's energized, stay away, and call us immediately at 541-685-7000, select option 2 and follow the prompts.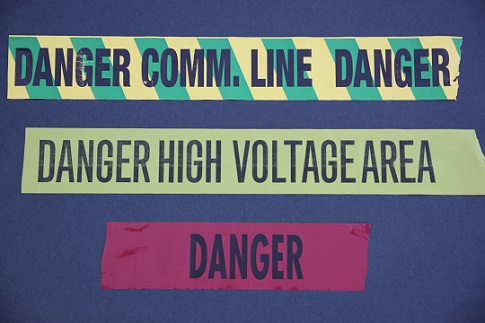 ---