The Eugene Water & Electric Board (EWEB) is ramping up to rebuild 10 substations in the next decade, revitalizing a key component of the utility's electric grid and bringing the infrastructure to modern standards as part of a new Capital Improvement Plan.
Substations serve as key nodes in the electric grid, taking high-voltage power from long-distance transmission lines and "stepping it down" to lower voltages that are safe for distribution to homes and businesses across Eugene.
The rebuild effort has begun with the Currin Substation, which is located near Garden Way and Interstate 105.
"Currin has served our community well for more than 60 years. It's amazing how the investments of EWEB customers in the 1960s and 1970s still serve us today," said Philip Peterson, EWEB systems engineer, and the lead engineer on the project. "But in the last few years, especially, we've seen a noticeable uptick in equipment failures at the substation. It's time for us to rebuild and reinvest for the benefit of future generations while also making sure our equipment meets modern standards."
Currin functions as the "Grand Central Station" of EWEB's electrical grid. Power from multiple long-distance transmission lines, including from the Bonneville Power Administration's lines and PacifiCorp's transmission lines – flows through the substation. It also serves as a connection hub to EWEB's Hayden Bridge Water Treatment Plant, customers in the McKenzie River Valley and Eugene's downtown electrical network. Because of these critical interconnections, EWEB chose to replace Currin first among the 10 planned substation rebuilds.
---
Currin Substation - the origin of the name
Hugh Currin was hired as an engineer at EWEB in 1923. Later, he became the chief engineer for the utility.
Hugh was an engineer for EWEB at a time when the city of Eugene was rapidly expanding, and demand for electric reliability and system redundancy was growing. Hugh helped EWEB prepare for the Walterville Plant enlargement by designing substation equipment to handle the increased generation capacity. He was also influential in the design of the Leaburg dam's gate controls and Eugene's electric distribution system.
After Hugh's three-decade career with EWEB, he retired in 1952, and in the years following, the utility named a new substation for the veteran engineer – the Currin Substation.
Read more...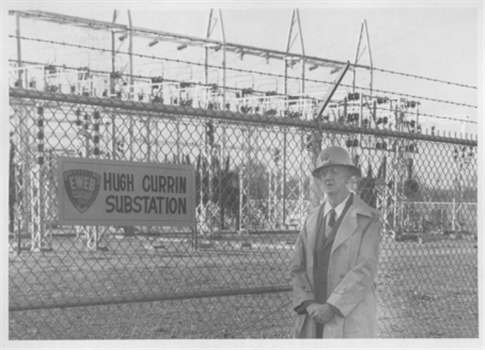 ---
City of Eugene residents elect five commissioners to four-year terms to form the EWEB Board of Commissioners. The elected Board is responsible for overall governance of the utility.


The board holds its regular meetings on the first Tuesday of each month. Commissioners welcome and encourage customers to come to meetings and share feedback.